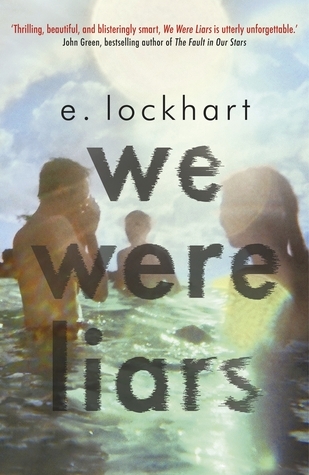 Summary from Goodreads
We are the Liars.

We are beautiful, privileged and live a life of carefree luxury.

We are cracked and broken.

A story of love and romance.

A tale of tragedy.

Which are lies?

Which is truth?
Published May 15th 2014 by Hot Key Books (first published May 6th 2014)
I read We Were Liars a couple of weeks ago and to be honest I'm still reeling and the only phrase that really sums up how I'm feeling after finishing is - Holy Shit
I didn't really know what I was going to be picking up with this read. I had avoided reading most of the reviews for fear of the dreaded spoilers. Everywhere I looked I was seeing the hype, so it's fair to say I was excited. I bought it, took it home, started and finished it all in one sitting.
Let's just say it more that lives up to the hype. Lockhart is an exceptional writer who's beautifully crafted story is a thing of thrilling wonder. She writes with a great sense of melancholy, that radiates right off the page and into your very bones. The mystery is utterly delicious.
The Sinclair family are spoilt, rich and want for nothing. They live their privileged lives not really caring what goes on outside of their own bubble. Every summer they go to their island and forget the rest of the world. They are all just perfectly normal, thank you very much!
Main character, Cadence, is strong willed and while I didn't warm to her much at the start, I ended up really admiring her. I loved the sad and very gripping way she twisted her gut wrenching tale. I really enjoyed her bond with the others and also watching her life unravel and fall apart.
The ending was a knockout! I didn't see it coming and I LOVED it!
We Were Liars is a book that I think people will be talking about for many years to come. It is truly memorable and I know will stand the test of time. It's ruthlessly smart, tragic, twisting and manages to toy with the reader from beginning to end. Please go read it - I beg you!
5 / 5 Stars
*I bought a copy of this from The Book People*