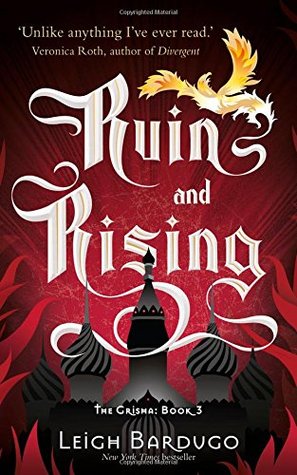 Summary from Goodreads
The capital has fallen.

The Darkling rules Ravka from his shadow throne.

Now the nation's fate rests with a broken Sun Summoner, a disgraced tracker, and the shattered remnants of a once-great magical army.

Deep in an ancient network of tunnels and caverns, a weakened Alina must submit to the dubious protection of the Apparat and the zealots who worship her as a Saint. Yet her plans lie elsewhere, with the hunt for the elusive firebird and the hope that an outlaw prince still survives.

Alina will have to forge new alliances and put aside old rivalries as she and Mal race to find the last of Morozova's amplifiers. But as she begins to unravel the Darkling's secrets, she reveals a past that will forever alter her understanding of the bond they share and the power she wields. The firebird is the one thing that stands between Ravka and destruction—and claiming it could cost Alina the very future she's fighting for.
Published June 19th 2014 by Indigo (first published June 17th 2014)

My Review

Gahhh - I loved this! I also hated it...because it was the end *sniff* So, I read it nice and slowly, trying to drag it out as long as possible. I got to the middle and couldn't stop myself any longer - I read fast and I read furious and I loved every awesome second!

Admittedly, I wasn't instantly sucked right back into the world again at the start, but that was okay because I got to learn why I love these characters and wo
r
ld all over again. The slow starter very quickly picked up and gripped me so hard that I had problems putting it down.
In this storyline we see things coming to an end for Alina as she struggles to face up to the fact that finding and using the last amplifier could leave her as dark and twisted as the Darkling himself. She has no other choice though, pursuing the Firebird is a must. The journey is anything but smooth for Alina and her little band of followers.

The shockers kept on shocking and each big revelation rocked me like I was actually living it myself. I really didn't see so much coming...
I think what makes Bardugo such a first-class writer is her fantastic ability to make you love the good and also the bad in all her characters. She makes you appreciate whatever personal brand of awesome that that particular character brings to the table - I loved that. Personally I will always have a soft spot for the Darkling!
That ending *sigh* All I will say is the little note with the blue kefta had me blubbering like a total mess!

Ruin and Rising is an epic conclusion to a highly imaginative, deeply immersive and darkly thrilling trilogy. I recommend these books to anyone who will listen and in all honesty I will read anything Leigh Bardugo ever writes in the future. A stunningly beautiful read!

5 / 5 Stars

*I bought a copy of this book*