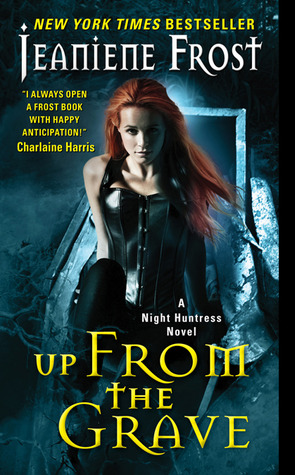 Summary from Goodreads
There's always one more grave to dig.

Lately, life has been unnaturally calm for vampires Cat Crawfield and her husband Bones. They should have known better than to relax their guard, because a shocking revelation sends them back into action to stop an all-out war…

A rogue CIA agent is involved in horrifying secret activities that threaten to raise tensions between humans and the undead to dangerous heights. Now Cat and Bones are in a race against time to save their friends from a fate worse than death…because the more secrets they unravel, the deadlier the consequences. And if they fail, their lives—and those of everyone they hold dear— will be hovering on the edge of the grave.
Mass Market Paperback
,
372 pages
Published January 28th 2014 by Avon
My Review

*Sigh* Cat and Bones, oh how I love your wild adventures! I'm so sad that this series is ending *sob*. I'm so thankful that Jeaniene Frost ended her epic series with a satisfying bang!

I loved how many big shockers were piled into this story. Each one was unexpected and utterly thrilling...I loved each kick-ass second. I'm trying not to give anything away, so I won't say too much. Alliances were formed, alliances were broken and there was battles of epic proportions. Old acquaintances crawl out of the woodwork and the stakes have never been higher for Cat and Bones. It was all so super exciting!

My favourite part was seeing Cat transform into something more human...with heartbreaking emotions. You'll know what I'm talking about if you've read it!

The lead up to the ending was nail biting and truly terrifyingly brilliant. I was right there on the very edge with Cat.

All in all, Up From the Grave is a great final instalment in a favourite series. It's filled with emotion, raging battle scenes, brilliant friendships, snortingly funny moments and of course...Bones action *wink*. I have loved nothing more than loosing myself to Frost's explosive world and devilishly moreish characters. Can't wait to pick up her next works!

4 / 5 Stars

*I bought a copy of this from Amazon UK*