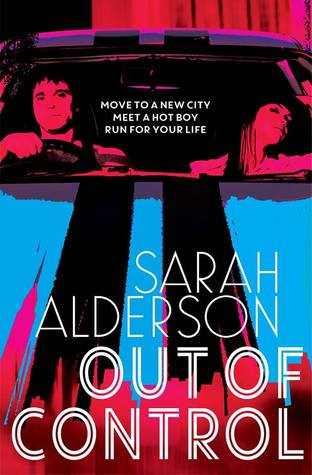 Summary from Goodreads
When 17 year old Liva witnesses a brutal murder she's taken into police custody for her own protection. But when the police station is attacked and bullets start flying it becomes clear that Liva is not just a witness, she's a target.

Together with a car thief called Jay, Liva manages to escape the massacre but now the two of them are alone in New York, trying to outrun and outwit two killers who will stop at nothing to find them.

When you live on the edge, there's a long way to fall.
Published May 22nd 2014 by Simon & Schuster UK



My Review

Out of Control is an excellent read. It's exciting, edgy and jam packed with non-stop action. I could totally see this on the big screen!

The storyline follows Liva, who happens to be in the police station as a witness to a shocking murder when the shit hits the fan. The police station is shot up, a massacre that Liva manages to escape from. She escapes with the help of bad boy, Jay!

It doesn't take long for the pair to piece some things together. Turns out Liva is the target of these brutal events. She must out run these men at any costs....

The pacing is relentless and it really never lets up. I adored each big dramatic moment that was revealed and also all the little details that make the storyline so complex. Sarah Alderson's writing is so on point and highly engaging - I can very easily say that I'm a fan of her works.

What I loved the most was the chemistry between Liva and Jay. The sexual tension nearly bloody killed me. I was screaming "come on, kiss already!!" Their electricity was sizzling and I loved that their flirting carried on for most of the book without anything actually happening.
The ending was unexpectedly awesome!
Out of Control had it all - a kick-ass heroine, a swoony guy, a murder mystery, chilling moments, thrilling moments and non-stop action. A highly addictive read that will have readers everywhere on the edge of their seats. To be fair I still have some questions and would love another book...
4.5 / 5 stars
*With special thanks to Simon & Schuster for the review copy*
Sarah Alderson started writing seriously in 2008, when she decided to give up her South London life and job in the not-for-profit sector to travel the world with her husband and young daughter in search of a new place to call home. After several months in India, Singapore, Australia and the US, they settled in Bali, where Sarah now spends her days writing by the pool. Despite not being a lover of exercise, Sarah finds her best ideas come to her when she's swimming. Hunting Lila was her first novel in 2011, followed by Fated in 2012 and The Sound in 2013.
Join Sarah online:
www.sarahalderson.com
www.twitter.com/sarahalderson
Inspiration Guest Post

The idea for Out of Control came from someone grabbing me at a party and telling me I should write a book about human trafficking. Naturally, I laughed them off and told them there was no way I could do justice to such a topic. I write fast paced thrillers and didn't have any authority to write on the subject. But then I realised what a great opportunity I had to spread the world about an issue I feel strongly about. My audience might not necessarily pick up a book about human trafficking but what if I could sneak it in there? At the same time a good friend of mine who grew up in New York told me this scary story about something that happened to her on the subway once when she was 18. It inspired me to set the book in New York and because I always base my books places that I have been to I booked a flight and spent ten days wandering the city. I was so inspired by that city, it's one of my favourite places in the world - so buzzing and rich with characters. All of the locations in the book from the Highline to the Staten Island Ferry to Marisa's apartment in Queens were all places I visited. I walked along with my notebook out, jotting down everything from smells to sites to shop names and street names. It was so much fun.
My other inspirations when I write books are movies. I tend to think very visually as though I'm watching a movie. I grew up in the 80s and lots of the films and TV shows I was obsessed by in my youth have coloured my imagination permanently. In the opening scene in the book Liva is in a police station that comes under attack. This was inspired by a scene in Terminator. Likewise the idea for Jay's character was partly inspired by Ryan Gosling in Drive where he plays a getaway driver.