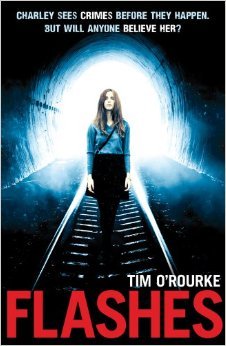 Summary from Goodreads
Flashes is the first in a new series of YA paranormal crime novels in which a 17-year-old girl cannot help seeing glimpses of dead people who seem to want her aid - much to the consternation of her boyfriend, who has just started work for the local CID.

***This is the full paperback novel--which was originally released in three separate parts over the course of three months via ebook.
Published June 5th 2014 by Chicken House Ltd
My Review
Wow! Flashes is an extraordinary crime/thriller with a fantastic supernatural twist. I loved so much about it and the only reason I didn't give it 5 stars is because I sussed out the mystery quite early on. Saying that, it still thrilled and excited me seeing everything unravel for main character, Charley.
I really really liked Charley. She's a bit of a loaner but is strong willed and really down-to-earth. After the death of her best-friend, her life seems to fall in around her. Her flashes seem to be getting worse and with her friend gone, who is there left to believe her?
Charley has gotten what she calls 'flashes' from around the age of 6. She sees someone who is dead or about to be and the events leading up to their deaths. When she sees one of the railway lines that are not only near her house but where her best-friend's body was found...she knows she needs to investigate.
That's when she bumps into, Tom. A dishy and very charming police detective who is working the case. He is very young for a detective and he seems to believe her. Charley craves acceptance and someone to believe her but can the pair unravel this mystery before it's too late....
Tim O' Rourke is a top class writer, who builds suspense and dishes out the chills and thrills. He writes ever so compellingly that you will be forced to devour the whole thing in just one sitting. I love how he crafts his characters and I would really like to get to know some a little better.
Flashes is a stand out read. It's interesting right from the off and it's dangerous twists and turns will keep you glued right up until it's last page. More please....
4.5 / 5 stars
*Special thanks to Chicken House for the review copy*
Guest Post
I started writing at the age of fourteen. As a kid I had struggled with reading and writing, but after discovering the works of Sir Arthur Conan Doyle, I started to write myself. I wrote mainly short stories at first and these were often about ghosts or had some kind of macabre undertone.
I continued to read and write and it became my passion. I was taught to read by a dear friend, who sat with me for hours and hours as I tried to make sense of the words. I wrote poems, books and plays all the way through college, although I never tried to get any of my work published at that time. I didn't have the confidence in myself or my writing. Shoot forward in time twenty or more years, and it wasn't until my wife pulled a huge box from beneath the stairs and asked, "Tim what's the point in writing all this stuff if you never share it with anyone?", that I thought perhaps she had a point. I spent the next few years sending my work out to publishers and agents but without success. It wasn't until I had written the first book in my 'Doorways Trilogy' and 'Black Hill Farm' book that I decided I wouldn't send them out to publishers or agents but publish them myself on Amazon. I remember thinking to myself as I hit the upload button, that I would be happy if I sold 50 books. To my surprise, I sold more than that. But it wasn't until I wrote the first Kiera Hudson book (Vampire Shift) that things really changed for me. That book sold really well and still does more than three years later. Kiera Hudson seemed to connect with people. I get more emails about Kiera then any of my other characters. People really seem to love the character and identify
with her on some level. I think it's because Kiera struggles and each of us do that every single day one way or another.
It's kind of odd because as a teenager I remember reading that Conan Doyle got tired of writing about Sherlock Holmes – so much so that he killed Holmes off in 'The Final Problem'. At the time there was a public outcry demanding that Holmes be bought back to life. Now, I've not had anything like that and I wouldn't compare my writing or characters to those created by the genius Conan Doyle, but when I let it be known that there wouldn't be any more Kiera Hudson books after 'Vampire Hollows' (The finale book in Kiera Hudson Series One), I did get my fair share of emails asking me to write more Kiera books. It was then I realised how fond and attached some people had come to this character. So before publishing 'Vampire Hollows', I went back and rewrote the ending, leaving the pages open for more Kiera Hudson adventures. I've just published the eighteenth Kiera Hudson book and have written over 1 million words about her in the last 3 years. But there is another reason this character is so important to me, and that's because I sold enough books about her that I attracted the attention of a literary agent. Something I had always struggled to do prior to self-publishing. The agent had downloaded one of my books from Amazon then contacted me. We arranged to meet and we both got on well so he signed me. Peter asked me to go away and write a YA police procedural with a paranormal twist. So I went away and came up with the idea of 'FLASHES'. As a serving police officer I had often wondered how someone might go about commenting the perfect murder.
So much science is used in police work today that it seems almost impossible not to leave a clue behind for the police to find. It took me fifteen days to write 'FLASHES' and it was great fun creating a killer and a series of murders that wouldn't be solved by science or the police, but by a 17 year-old girl who sees flashes of dead people inside her head. Peter loved it and within a few weeks had sold the book to publisher Barry Cunningham at Chicken House. I think FLASHES is unique as it would happily sit in the crime/police procedural genre, but there is this paranormal edge to the story and the investigators aren't some hardened and jaded police detectives like you see in so many other crime series but a young and naïve recruit, Tom Henson, who is posted to the CID department and Charley Shepard a 17 year-old college student. Together they go on a journey and not only do they discover the killer's identity but learn a lot about themselves too. Both characters grow in the book, and both have to fight for what they believe in and what they think is right.
I'm really pleased by the response from my fans. They seemed to really love 'FLASHES' and enjoyed the twists and turns throughout the book. I'm currently working on the 'FLASHES' Book two which will be out next year.
Flashes by Tim O'Rourke is out now, £7.99 paperback/eBook, published by Chicken House
About the Author
Tim O'Rourke is an obsessive writer, spending 8 hours a day, five days a week hunched over his laptop, completely immersed in the worlds he has created in his own imagination. In the real world, Tim lives in Buckinghamshire with his wife, three sons and a cat.