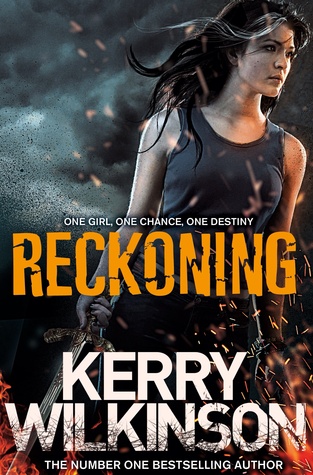 Summary from Goodreads
In the village of Martindale, hundreds of miles north of the new English capital of Windsor, sixteen-year-old Silver Blackthorn takes the Reckoning. This coming-of-age test not only decides her place in society - Elite, Member, Inter or Trog - but also determines that Silver is to become an Offering for King Victor.

But these are uncertain times and no one really knows what happens to the teenagers who disappear into Windsor Castle. Is being an Offering the privilege everyone assumes it to be, or do the walls of the castle have something to hide?

Trapped in a maze of ancient corridors, Silver finds herself in a warped world of suspicion where it is difficult to know who to trust and who to fear. The one thing Silver does know is that she must find a way out . . .
Expected publication: May 22nd 2014 by Pan Macmillan
Kerry Wilkinson was one of two things as a child. If you ask him, he was a well-meaning, slightly hyperactive young man with an active imagination. If you ask his mother and/or teachers, he was a bit of a pain in the bum.
Before the age of flat screen televisions, laptops, mobile phones, hover boards and the internet, there were BBC B Microcomputers and there were real books with actual paper pages. Really! Kerry grew up playing ropey-looking computer games that you needed a keyboard for, being rubbish at football, and reading science fiction and fantasy novels.
Kerry is a bit less of an accidental author than he once was. His debut, Locked In, the first title in the detective Jessica Daniel series, was written as a challenge to himself but, after self-publishing, it became a UK Number One Kindle bestseller within three months of release. His Jessica Daniel books have sold almost 750,000 copies. Reckoning is his first YA novel. For more information about Kerry and his books visit his website: www.kerrywilkinson.com
EXAMS
Ever since I did my SATs at the age of thirteen, I've been fascinated by the concept of exams – mainly because, if you look at things from outside the bubble of school, it's all so mad. When you're sixteen, for now at least, students in England take GCSE exams, the results of which stay with them forever.
I'm 33 years old and my CV still has those 10 GCSE grades B-D floating around the bottom somewhere. I didn't get a single 'A', mainly because I messed around and did no revision, an approach I wouldn't recommend. The 'D' was in French by the way – I can tell you there's a monkey in the garden, but not much else. Bizarrely, you don't get high marks for that.
Anyway, what got me was always the idea of something being FOREVER: A thing you do when you're sixteen will be with you for the rest of your life. It's a scary thought, albeit one that – in the real world – you can escape. If you get poor GCSE marks, they don't necessarily haunt you for eternity because you can prove yourself in other ways.
In the earliest stages of writing Reckoning, when Silver Blackthorn didn't even have a name, I knew I wanted to expand on that. What if, at sixteen, characters take a test that shapes everything about their future? Something where the results will place them into a caste from which they will never escape?
That's what the Reckoning is.
Nobody wants to be a Trog, the lowest class, because that means they're slaves in everything but name, left to do the awful jobs that nobody else wants. The Intermediates are the majority – those who get by in life but are given no leg-up and have little prospects.
The Elites are precisely that, those at the top who can take the best jobs with the biggest perks. Then there are the Members, who bridge the gap between those two. Inbetweeners, if you like, who can associate with both sides and still live well.
Silver Blackthorn takes the Reckoning at sixteen, knowing one of those four paths are going to be hers. Except, well, things don't quite work out like that…