Initiation
By Imogen Rose
Genre: paranormal YA
DESCRIPTION
Welcome to Bonfire Academy!
Set in the foothills of the alpine mountains in St.Moritz, this exclusive private school caters to a special kind of student. Enter at your own risk... but if you are human, you may not want to enter at all.
WARNING
: This YA story is set in a school for paranormals who are very different from normal human teens. Thus, the language and some scenes might not be appropriate for younger YA readers. Recommended for those sixteen and above.
Check out what the reviewers have to say:
Let me lay it out for you. This is a five star book. Period. Heck, I think nearly all of Imogen Rose's books are five stars in my eyes so far. It's kind of crazy. Did the author make a deal with the devil or something to get this level of pure talent or what? Or maybe one of these demons from this book? Hmmm… Candy Beuchamp (Candy's Raves)
'It is better to fail in originality than to succeed in imitation." - Herman Melville
That one phrase changed my life, AND my perception of what people expected. So I wrote it down, in a little black book, and put it in my purse. Now, I can't tell you exactly how many times I have read that 1 phrase since I wrote it down, but every time I read a book, and then bask in the brilliance of it's originality I think of Herman and his wise advice. THEN...I think of the authors that exude this quality more than most. Imogen Rose is one of these authors.- KindleObsessed
A Red Adept Select book (voted "Outstanding in Genre"-YA)
Book Trailer:
Excerpt:
She eyed Faustine and took a long sip from her bottle of fresh blood. "So, you've been through quite an ordeal. Way to start Initiation, Faustine. Now, I need to talk to you both separately, though Jagger insists on being around when I talk to you, Faustine. You know, in case I get the urge to snack on you." She laughed. "Just kidding, of course. I never snack on my clients." She rolled her eyes. "Since he isn't here yet, let's start with you, Cordelia. Faustine, can you excuse us for a bit? Quinn is waiting outside to take you back to your room."
I wondered where Jagger was. We were sitting in his office. Was he asleep in the next room? I fought the urge to check it out, and potentially jump his bones again, the memories from the ski slope still fresh in my mind. I shook myself and turned my attention back to Octavia. "So, what do you think?"
"Like Jagger told you, I've seen the video. Now I need to hear the story from you. Your impressions may uncover additional clues."
"Like what?" I asked, confused.
"Smells, for instance. There could be other things as well, so start from the beginning and tell me everything. Don't leave out any details. Try to remember smells, colors, and things like nails–manicured or not–designer labels, everything, no matter how insignificant it may seem. Play the scene in your head in slow motion, analyze every nuance."
"Okay." I did what she said and told her everything I knew, which wasn't much more than the video would show. I described the rancid smell of the shifters. "You know, just regular shifter smell."
"Male or female?"
"There were four males and one female. You can see that on the video."
"No, I mean how many female and male scents did you pick up before you actually saw them?"
I closed my eyes, trying to remember. Truth was that I wasn't very good at the whole sniffer thing.
Meet Imogen Rose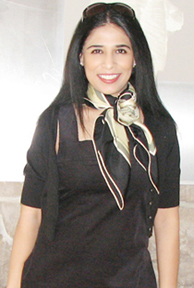 Imogen Rose is the author of the bestselling YA series, the Portal Chronicles. She was born in a small town in Sweden and moved to London in her twenties. After obtaining a PhD in immunology from Imperial College, she moved with her family to New Jersey, where she's been based for the past ten years.
For as long as she can remember, Imogen has dreamt stories. Stories that continued from night to night, from dream to dream. So, even as a child, going to bed was never an issue, just an anticipation of the story to come.
PORTAL, Imogen's first novel, would have remained in her imagination, to be shared only with her daughter, Lauren, had her eight-year-old not insisted that she write it down. In the course of a month, Imogen typed while Lauren waited eagerly by the printer for the pages to appear, and a novel took shape.
The warm reception PORTAL received encouraged her to continue with the story and the Portal Chronicles. The Bonfire Chronicles is Imogen's new YA paranormal series.
Imogen is a self-confessed Hermès addict who enjoys shopping, traveling, watching movies and playing with her dog, Tallulah.
Website Blog Facebook Twitter
Interview
A big hello & welcome to Imogen Rose, who was kind enough to drop by Fiction Fascination for an interview! :)
Tell us a little bit about Initiation.
Initiation is the prequel to Faustine (Bonfire Chronicles Book One). We go back in time by three years, to when Faustine begins her training at Bonfire Academy under the mentorship of Cordelia, a senior student at the school. The story is told by Cordelia, and we get to experience Faustine's early development at the school through her eyes, in addition to being treated to the wonderfully complex world of Cordelia herself.
Where did the ideas come for to start writing Initiation?
This story came from questions that arose in Faustine, particularly those asking about the closeness between Ryker and Faustine.
Who is your favorite character? Why?
That's such a hard question. My main characters speak through me, and I feel incredibly close to each one of them. Right now, I'm particularly close to Cordelia, simply because I'm writing her book at the moment. I do feel a particular strong connection with her anyway. She comes from a very basic place within my own character.
Which book of yours has been the most fun to write?
Each book is fun!
What is you writing process like? Do you hand write your first draft?
I can't type properly, so I tap away with my two index fingers. I usually do the first draft in about a month by just sitting down and letting my imagination flow. I don't plan or outline. Once I'm done with the first draft, I go through it a couple of times and flesh out/cut bits as needed. Then I send it off to my wonderful editor, Sue Bernstein. Once I get it back and go through her edits, the manuscript goes off to Lynn O'Dell and her team at Red Adept Publishing. It goes through a thorough editing process, which includes copyediting and proofing. I then send it off to my beta readers, usually five of them. My wonderful regulars include Al Kunz, Allirea Brumley, Vickie Boehnlein, and Lala Price. Once I have incorporated their edits, a final two proofreads are done by the Red Adept team.
Are you working on any writing at the minute?
Yes! I am working on Integration, which is the sequel to Initiation.
What genre do you most enjoy reading?
I love reading YA books, particularly paranormal ones.
Tell us about some of your all time favorite reads?
My absolutely favorite all time reads are George Orwell's 1984 and Animal Farm. I also love books by Enid Blyton, Agatha Christie, and P.G. Wodehouse.
Who is your all time favourite fictional character? Why?
The ones that I write. :D
What do you enjoy getting up to when you are not busy writing?
I am a shopoholic (as is my daughter), so hitting the Manhattan boutiques is always fun. I love traveling, with London and Paris being my favorite getaways. I also love going to the movies, theater, opera, hanging out with friends, and trying to get my uber-lazy dog to play.
Carly, thanks for having me on your blog!
a Rafflecopter giveaway